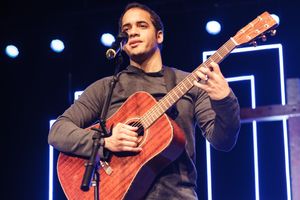 AD Christie - BIO
Introducing a uniquely ambient, multi-layered and softly cinematic way with sound design – producer and artist AD Christie delivers eclectic and colorful projects. 
Inspired by an array of artistic musical names, from Michael W Smith through to New Breed and Casting Crowns, AD's creative approach spans music's history and presents a wholly immersive listen; with a significant focus on Faith throughout. 
Born and raised in a culturally diverse Trinidad and Tobago, the Caribbean artist and producer now resides with his wife and two daughters in Lima, Ohio. His well-travelled and Christian background helps elevate a globally inclusive, warm and euphoric musicality as an artist. 
Despite being a lifelong musician, with roots singing in a choir at nine, playing keyboards before ten, and songwriting for fun during a similar period, AD stepped into music production fairly late. 2017 first saw him turn to the art-form, as a means of more effectively promoting the message of the Bible. 
2023 brings the brand new project – written, composed and produced as a solo effort, with the exception of each hired singer – and it promises to shine light on the teachings of the Bible in a refreshing, engaging way. 
AD's journey has been dedicated to the joy of music in a multitude of ways. The multi-instrumentalist played keys in church from age 14 to 26, which provided an immeasurable foundation for the life he now leads. Having built unbreakable friendships there, and learnt the art of worship through song, this background ultimately helped develop an ear for music and a lasting faith in God. 
Though singing has now taken a back-seat in favor of collaboration, AD's ear for melody and expression remains clear. The project utilizes Bible verses. Eternal significance lays at the heart of the writing, and though the genre or style may vary, the central characteristic is this harmonious and full set-up, alongside the promise of sharing and teaching the word of the Bible.